Regular Hand Stamps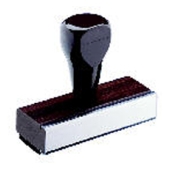 The traditional hand stamp is the solution to any stamping application when using an ink pad. We offer standard and natural rubber. Please email us for hand stamp details.

Pinellas Rubber Stamp & Engraving
Making Great Impressions Since 1978
Please use the assigned User ID and Password to place orders.
If you are an existing PRS account and have not yet recieved your User ID and Password: Just sign in as a new user and we will adjust your account on your first order to match your terms, pricing and shipping.
New Customers are welcome to log on as a new user and place orders.
Templates